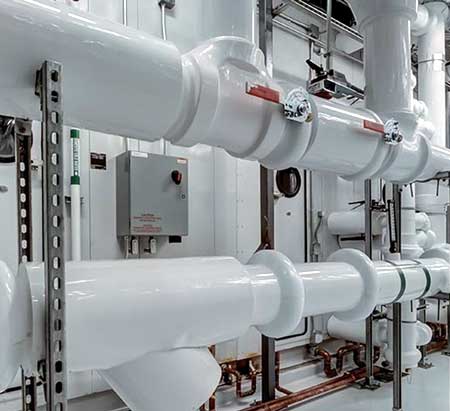 ORIPAC Flow Measurement Systems have been designed for use wherever there is an application for a conventional flow orifice plate. They can also be used in place of other primary differential producers for efficiency and cost effectiveness. ORIPAC was designed and developed by engineers experienced in the differential flow measurement field.
Standard size units available from stock and customized units are available to meet specific field requirements including flange rating, pipe schedule and differential pressure. Installation is accomplished simply by slipping the self-centering ORIPAC between standard flanges (orifice flanges are not required).
The ORIPAC is available for all line sizes and fluids, and meets or exceeds AMSE, AGA and ISO standards.
Integrated metering taps properly located and predrilled – Used with standard ANSI flanges - orifice flange unions eliminated. No drilling/tapping pipe.
Full faced integral gasket pre-attached – Precludes potential alignment problems during installation.
Self-centering within standard flanges – ORIPAC O.D. sits snug within bolt circle of specified flange rating insuring concentricity - centering devices or additional components eliminated.
"Corner" type metering taps – Established coefficient accuracy values.
Solid-state PVC construction – Use or superior high-tech materials eliminating rusting and plugging of sensing ports.
Custom Manufacture (able to meet specific temp and pressure requirements) – Standard configurations available from stock, custom units available in different materials, thickness and configuration to meet specific requirements for harsh applications.
Proven through a wide and varied range of applications and installations since 1984 – Ten (10) year history of reliability and accuracy.
Sized for specific pipe schedules or special inside pipe diameters including US/Metric, etc – Insures accuracy by eliminating pipe inside diameter to ORIPAC inside diameter mismatches.
Available with any bore size to produce any specific differential pressure – Ability to match range on an existing d/p transmitter or indicating gage without recalibration or replacement.
Orifice bore calculated to match specified "headloss" requirements – Exact differential pressure values and overall system head loss can be calculated and pre-determined.
Orifice bore styles available include Concentric, Eccentric, Segmental, Quadrant edge, multiple bore – Able to address challenging flow applications including: low viscosity fluids, gasses containing liquids, limited pipe runs, etc.
Drain hole at bottom or vent hole at top available for orifice plate. Additional tap can be installed for drainage purposes – Orifices may require a drain at bottom of orifice to allow passage of condensate. Air in liquid lines may require a vent hole at top of orifice.
Bi-directional flow capabilities – Orifice plate available without bevel to accommodate flow in both directions.
Orifice plate thickness option – Thickness of orifice plate provided according to ASME/AGA specs standard. Can be provided with special plate thickness to address high pressure lines, thick bore "critical flow" requirements, etc.
Available for any flange material or rating (125/150#, 250/300#, 600#, 900#, 1500#, 2500#) DIN Ratings or custom flange requirements – Eliminate potential flange rating mismatches, no need for additional centering devices - ideal for use within lightweight duct flanges.
Ideal for light weight duct measurement – Mounts between thin angle or plate flanges for lightweight installation.
Can be used within cast iron standard flanges. (Orifice flanges not available in cast iron) – Simple orifice device now available for cast iron piping without welding.
Can be sized for restriction or pressure drop control in conjunction with flow measurement – Eliminate additional throttling valve by combining flow meter and restrictor as one integral unit.
Port size (Pizometer through hole) can be increased if required – Reducing the chance of plugging in lines containing particulates, solids, etc.
Metering Taps drilled "straight through" to the pipe I.D. – Easily accessible and cleaned using pipe cleaner or rod out kit.
Can be used with Lambda flange mount bracket for installing instrumentation – Option for direct mount installation of manifold transmitter or indicating gage offering consolidated installation (Remote mount also available).
Pre-attached nameplate – Serial #, Tag #, ID, Bore and other information available. Also available: SS attachment w/SS wire or w/RTJ type nameplate holder.
Flexible readout options – Can be used with any Transmitter, Gage, Manifold arrangement.
Standard valve kit available – Includes nipples and shutoff valves to streamline installation.